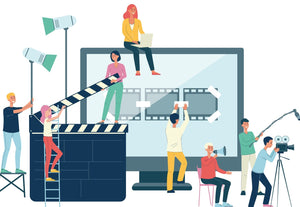 3 Graduate Credits from Calumet College of St. Joseph
3 CPS Lane Placement Credits and 45 ISBE PD Hours
45 ISBE PD Hours
45 Indiana PGPs
45 Texas CPE Hours
The "EdTech Pioneers" course series offered through Teacher's Teacher seeks to push the boundaries and possibilities of educational technology to new heights. In this series, Video Production & YouTube Branding for Education, you will gain the skills needed to become the instructor you commonly see on the other side of the video screen. Learn how to professionally record, edit and publish your own video content AND create a unique brand to host a YouTube channel allowing other teachers and students from around the world to engage with your content. Collaborate with other trailblazing educators in real time as you learn to leverage this technology to meet the needs of your current and future students. Stop spending time searching for that "perfect" video and instead feel knowledgeable and confident enough to create it yourself. With the input of imagination and innovation the possibilities are truly endless. What will you create? I can't wait to find out!
This course will emphasize the use of G-Suite apps and TechSmith software (among others). Technology skill level: intermediate. Per requirement of most video editing software you must have a Mac or PC that is running the most up to date versions of operating systems to successfully complete this course (macOS 11.0 or later, Microsoft Windows 10 (64-bit) 20H2 version or later). 
Suitable for teachers of all grades.